「猿楽十方楼」が『中層木造建築デザインアワード2018』を受賞致しました。
2019. May. 07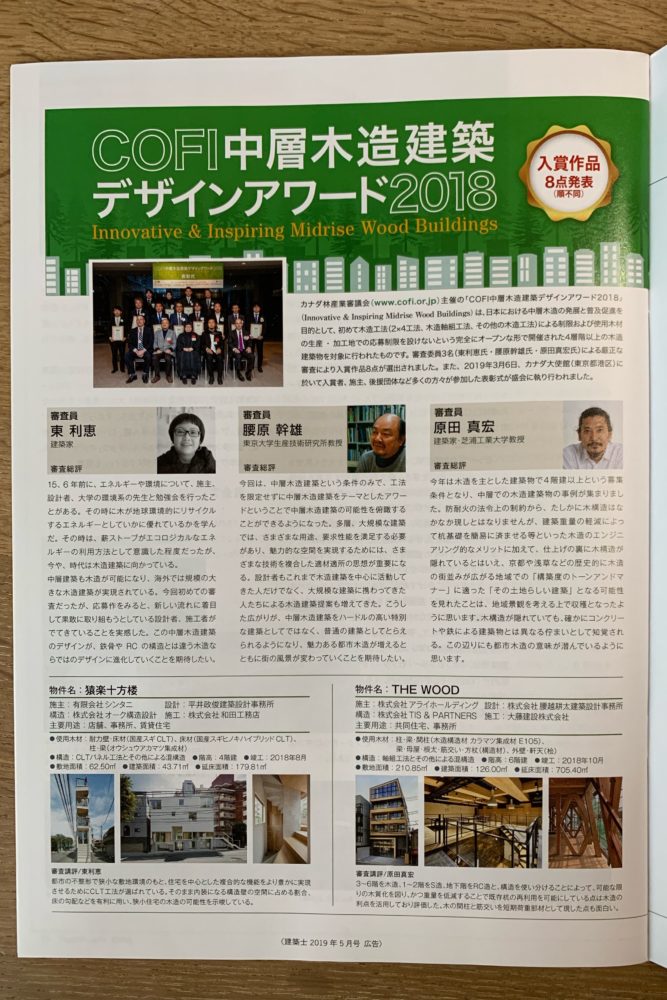 「猿楽十方楼」がカナダ林産業審議会主催の『COFI中層木造建築デザインアワード2018』を受賞致しました。
審査員は東利恵さん(建築家)、腰原幹雄さん(東京大学生産技術研究所教授)、原田真宏さん(建築家・芝浦工業大学教授)で、
2019年3月6日にカナダ大使館(東京都港区)にて表彰式が執り行われました。
建主様、工事施工者様をはじめ、数多くの方のご協力を頂き、都心変形狭小地での中層木造デザインにおける一定の成果をあげることができました。
今後も国内外の林産業への建築設計側からの積極的な関わりを持ち続け、素材と暮らしが有機的につながる空間を提案して参りたいと考えております。
※記事は『建築士 2019年5月号』日本建築士会連合会 発行 より抜粋
詳しくは下記URLをご覧ください。
"Sarugaku Plural Directed Tower" received the "COFI Middle-rise Wooden Architecture Design Award 2018" sponsored by the Council of Forest Industries Canada.
The judges are Toshie Azuma (Architect), Mikio Koshihara (Professor, The University of Tokyo), and Masahiro Harada (Architect, Professor of Shibaura Institute of Technology)
The award ceremony was held on March 6, 2019 at the Canadian Embassy (Minato-ku, Tokyo).
With the cooperation of a large number of people including the client and the construction contractor, we were able to achieve certain achievements in the design of middle-rise wooden architecture in the central Tokyo.
We will continue to have an active relationship from the building design side to the forest industry in Japan and abroad, and we would like to propose a space in which materials and living are organically connected.
※ The article is excerpted from "Kenchikushi May 2019 issue" Japan Federation of Architects & Building Engineers Associations issue
Specifically, please see the following URL.
https://kenchiku.co.jp/cofi2018/index.html